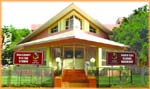 Prashanti Digital Studio, a multi-purpose state-of-the-art studio inaugurated by Bhagawan on 29th August 2002, was set up with the objective of categorizing, archiving and spreading the message of Bhagawan Sri Sathya Sai Baba. This hi-tech facility with world-class equipment has been set up in a fully air-conditioned studio, which has an acoustically treated recording floor, control room and digital post-production facility.
The studio is a centre of excellence in multimedia and spreads Bhagawan's Divine glory via four major routes – video, audio, radio and print. High quality digital audio and video is produced at the studio and released as masters for replication. Today, the products include Audio Cassettes, Audio CDs, MP3 CDs, VCDs and DVDs. Interactive CD Roms too are in the pipeline. Programmes for Radio Sai Global Harmony too are recorded here.
The studio also prepares video material of latest programmes and events at Prasanthi Nilayam for broadcast via popular TV channels.
Colourful Brochures, books and calendars depicting Bhagawan's message are churned out regularly. The studio also runs an immensely popular web journal HEART TO HEART.
With Bhagawan's blessings an exclusive Video Studio is getting ready which has the state-of-the-art equipment for recording and broadcasting live, the events at Prasanthi Nilayam.
Truly, it brings Divinity into the Digital Dimension.