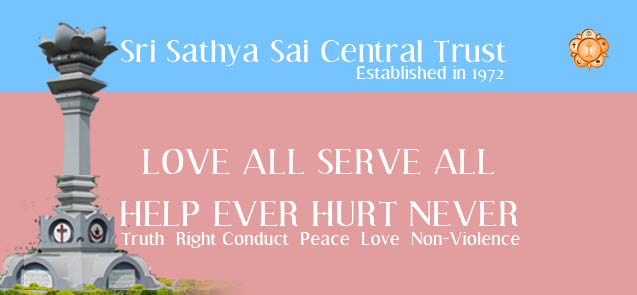 Published Thursday, April 21, 2011 @ 2250 hrs.
SRI SATHYA SAI CENTRAL TRUST
PRASANTHI NILAYAM
Date: 21-04-2011
BABA'S MEDICAL CONDITION:
The series of daily medical bulletins issued by the Director, Sri Sathya Sai Institute of Higher Medical Sciences, Prasanthigram, has been giving the health status of Bhagawan Sri Sathya Sai Baba from time to time. In spite of the best treatment given to Him, in consultation with leading doctors in India and abroad and also the teams of doctors deputed by the Govt. of Andhra Pradesh, Bhagawan's health condition has deteriorated. The bulletins issued by the Director have been mentioning the names of prominent specialist doctors who had been called in for consultation from time to time and also the response of Baba's vital organs to the treatment. The information in the Director's bulletins is in accordance with medical ethics.
While the response of the vital organs have been varying - good on certain days, sluggish on other days - the improvement has been generally slow. During the last 24 hours, Bhagawan's health condition has deteriorated further, causing concern.
CERTAIN REPORTS IN THE MEDIA:
It is unfortunate that at a time when we are facing a grave crisis, there has been a series of calumnious reports by a couple of newspapers. Some news channels of electronic media are also indulging in sensational and totally false reporting. The reports contain absolutely false, unsubstantiated allegations imputing financial irregularities, defalcation of funds, commission of illegalities, violation of laws, denial of proper food and nutrition to Bhagawan Baba and wrongfully holding Him in confinement, etc. Sensational and mischievous headlines like "Baba Bandi", "Puttaparthi Lo Dongalu Padaru", "Jabbu Lo Baba, Dabbu Lo Shishya Pramukhulu", "Bangarum Paaya", "Devanahalli daggara pattukonna customs adhikarulu" etc., are being employed.
The above allegations are totally false, motivated and are made with sole objective of creating confusion in the minds of public and the devotees in particular, as well as defaming the trustees and the Secretary of the Trust, who are distinguished themselves in public life, and have been handpicked and appointed by Bhagawan Baba Himself. All these allegations are attempts to defame Bhagawan Baba and His institutions, which have been rendering yeomen service to humanity in an exemplary manner for several decades.
Suitable legal action will be initiated against the offenders of law at the appropriate time. All of us are preoccupied and deeply concerned that Bhagawan Baba's health should get back to normalcy. No other concern, no other thought is at present in the minds of the trustees and all the devotees at this point of time.
We strongly appeal to the general public not to be misled by such outrageous efforts but be firm in their resolve and faith in Bhagawan Baba and pray for His speedy recovery.
RESPONSE OF ADMIRERS AND DEVOTEES OF BHAGAWAN:
There has been a ground swell of prayers, bhajans, yagnas all over the world praying for Bhagawan's health. Mass processions comprising people of different faiths - Hindus, Muslims, Sikhs, Christians and all others - are being conducted in various parts of India and abroad. There has been a 48 hour continuous bhajan in Sri Damdama Saheb Gurudwara, New Delhi with participants from all faiths. Email messages are pouring in from all over the world praying for Bhagawan's speedy recovery.
ACKNOWLEDGEMENT:
The trustees and the members of the council of management, including the Secretary of Sri Sathya Sai Central Trust deeply appreciate and are gratified by the strong and vigorous support extended to, and the confidence expressed in them, by one and all.
Jai SaiRam
Signed by the trustees of Sri Sathya Sai Central Trust.
(signed)
Released by Sri. R.J. Rathnakar (Trustee, SSSCT)