Sprucing up to the occasion, the township is bustling with enthusiasm as the clock ticks to the scheduled hour for the epochal event to get underway. Roy Christie, a veteran South African journalist who is currently camping in Puttaparthi reflects the mood and vibes outside.
Sathya Sai Baba's ashram in Puttaparthi has always been a vibrant place – the energizer of the Cosmos resides there, after all, in human form – but in recent weeks it has gone into hyperdrive.
The reason? The ashram is preparing for two events of significance – firstly to mark a moment with a proud place in Vedic tradition, as Sathya Sai Baba experiences one thousand full moons during His life so far.
Time-honoured ceremonies accompany such a milestone and Vedic scholars from all over India are gathering here to take part in the proceedings which begin on Saturday 15 November and conclude on Monday, 17 November.
Secondly, Sathya Sai Baba's 83rd birthday will be celebrated shortly afterwards, on 23 November.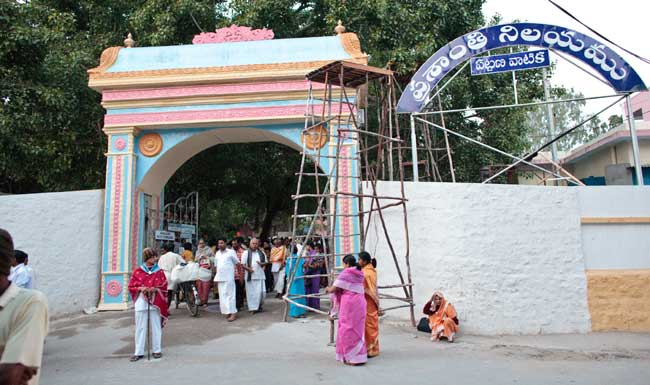 For a Majestic Look! - The Main Entrance gets an added charm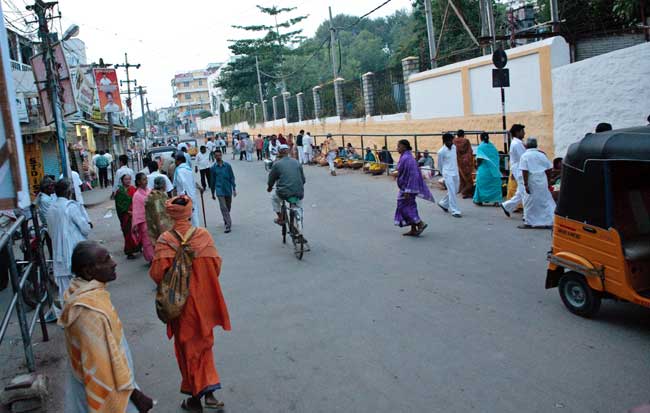 Bustling with Action - Outside the main gate
The Full Moon ceremonies take place at the Hill View Stadium, capable of holding the vast audience of devotees who are expected to attend. The sacred programme of events will include special prayers for the well-being of all humanity and for world peace.
The ashram is always the centre of a swirling tide of comings and goings as the human throng ebbs and flows. Some time ago Bhagawan Sri Sathya Sai Baba announced that the great Indian population were now ready to receive His message and that they would be attending the ashram in greater numbers.
That, of course, has proved to be the case. In recent weeks the Poornachandra Hall and mandir have been crowded with Indian devotees with only a sprinkling of Europeans and others. Now that is changing. The Westerners traditionally flock to Puttaparthi for Sai Baba's birthday and also for the Christmas celebrations.
Where I live my next door neighbour is a Venezuelan and down the corridor there are an Iranian and a Briton. When I go for lunch at the Western Canteen I meet a Canadian, an American, a Sri Lankan and a Londoner.
At the Internet shop where I Google, the language mix has enlarged. French, Italian, Russian now join the melodious murmurings which resound from cubicle to cubicle.
And in recent days gangs of workmen have been carrying out a feverish upgrading of various aspects of the ashram.

At the main gate they placed a new, impressive structure atop the gate, constructed, according to a British builder I know, of a wooden base and plaster of paris superstructure. He watched the men as they worked.
He told me with a note of awe: "They put it up and painted it so fast I was impressed."
And security is clearly a primary concern. The newspapers revealed recently that a special detail of security forces had been deputed to saturate Puttaparthi with a cordon of safety.
Police are everywhere. You hear their vehicles in the still Puttaparthi nights, the occasional police siren triggering an outbreak of barking dogs and braying donkeys.
But apart from the town of Puttaparthi, Prasanthi Nilayam remains the Abode of Supreme Peace. When Sathya Sai Baba appears before the throng of worshippers, a stand-out vision in His red robe and with His distinctive halo of dark hair, a wave of love arises from the thousands of devotees and washes over Him – He who is self-described as "the embodiment of love."
There is an electricity in the air, the energy of adoration, and there is hardly a dry eye in the great concourse