SUNDAY SPECIAL
Divine visit to Hadshi-Mumbai is History now that definitely deserves a leaf when His Story will be compiled for future volumes. While Prasanthi becomes a global spiritual destination, for all to come and seek blessings, places like Hadshi and Mumbai, where He shows up for rare 'moments' in His earthly sojourn, bring impulse blessings to many an "unknown" whose credit in the past is honoured by the Divine in a style that is known to Him alone. Reminiscing the Divine sojourn Mr. C.B.S.Mani had rare accounts of such occurrences from a cross section of society while sharing with the readers the precious lesson that he learnt from Bhagawan's trip to Hadshi-Mumbai.
The writer is an alumnus of Sri Sathya Sai University, having done his graduation at Brindavan Campus in 1993, he went on completing his Masters in Financial Management during the years 1993-95.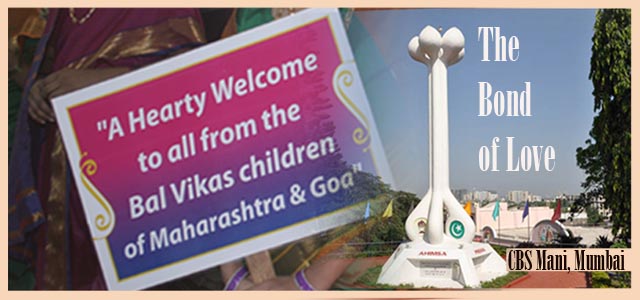 Posted at 17:30:00 Hrs. IST on 20 Dec 2009
I had chosen to skip work on October 7, 2009, as I was running a slight fever. Later on the same day, I came to know of the wonderful news that Swami had agreed to visit the newly built temple at Pandurangkshetra in Hadshi in the west of Maharashtra.
On the one hand, here I had chosen not to attend work for a mild fever, whereas Swami, whose physical body moves in a wheelchair, had chosen to travel a long distance to a remote place in Maharashtra for the sake of His devotees. The selfless, pure, Divine Love made the difference.
As Swami says, Love can make anything possible. With Love, everything can be conquered. It was His boundless Love for devotees that pulled Him to a remote place in the country. For God, the long travel and the strain on the physical frame were nothing, compared to the pull of His Love for His devotees.
It was the same Love that made miracles happen through the Maharashtra trip. I saw evidence of this pure, divine Love everywhere.
Pandurangkshetra, a place situated on a hilltop in the Western Ghats, was bound to be inhabited by scorpions, snakes and other reptiles. But where were they during those days when lakhs of Swami's devotees had gathered at the tiny hilly village? I was astonished that there was not a single incident of anyone being hurt by the reptiles.
It was a miracle of the same Divine Love. The Creator of all beings was in the village to bless us all — why would then one creation of His hurt another?
Every person who had come for Swami's darshan was well taken care of — right from his travel to food and accommodation and even the travel back home. The news of Swami's visit to Maharashtra had spread like wild fire. Swami's Love pulled devotees from every corner of the state and beyond for the darshans — they ignored the hardship they had to take and the conveniences they had to forgo, for it was nothing compared to the boundless Love Swami has for us.
A senior executive from Mumbai, who had merely heard about Swami from his assistant, could not resist himself from having darshan at Hadshi. He did not know the way to Hadshi or the way to reach it. But his very resolution to see Swami guided him to the pilgrimage centre. He left Mumbai at about 3 am on October 29 and took a bus to Lonavala. From here, he took another bus to reach Kamshet, 110 km from Mumbai and 17 km from Hadshi. However, after getting down at Kamshet, the businessman did not know how to proceed further.
There are no direct buses from Kamshet to Hadshi, and being a rural place, getting a mode of transport here is almost impossible. The executive requested many passersby to give him a lift to Hadshi, however nothing materialised. He was losing time and hope of having Swami's darshan.
Just as he decided to return to Mumbai, a villager passed by on a motorbike. The executive waved to him to halt and requested him if he could be taken to Hadshi. The villager agreed. Thus sitting as pillion rider, the eager executive finally reached Hadshi after a long journey to have Swami's first darshan, and also to listen to His first discourse on the same evening.
Certainly, God's delays are not denials, but are just interesting twists and turns that finally lead to a better destination than we had planned.
While Swami made it possible for this Mumbai pilgrim to turn his resolve into reality, He made a dream come true for 38 patients admitted at Mumbai's St George Hospital. Though being in the city itself, it was not possible for them to go to the darshan grounds. However, the Lord had made the necessary arrangements. Few youngsters from the Sathya Sai Seva Organisation arranged for their darshan and also brought the patients to Jamboorie Maidan in Worli on the second day of Swami's stay in Mumbai.
Sevadals from the far outskirts of Mumbai, such as Boisar, Kalyan, Panvel, served at the darshan grounds during Swami's stay in Mumbai for three days ignoring their hardship and fatigue, just to make the darshans a pleasant experience for other devotees.
For villagers living in Saphale and Vaitarna, about 70 km away from Mumbai, journeying outside their village boundaries is a daunting task due to the rough, meandering roads and hairpin bends. However, nothing stopped them on October 31 from coming to Mumbai's NSE grounds for darshan, as it was God's will. Volunteers from Mumbai escorted the villagers to the darshan grounds.
Youth volunteers from South Mumbai started from their homes at 5.30 am to reach the interior villages, and started back at 10.30 am with about 80 villagers, including many women and children, accompanying them. As for their food shelter and return journey, the volunteers had already made all the arrangements.
God knows us completely, our desires, our wishes and our intentions. While many were lucky to see Him in His physical form, some were more luckier.
Khalil Baba Kasam Syed, 65, a driver who works for one of the devotees' families in Kalyan, dropped his employer and his family at Worli's Jamboorie Maidan for darshan. As his employer was getting down, he asked Syed to park the car and join him for the darshan.
Syed, who had been working for this devotee-family for about seven years, had never heard about Swami. However, at the mention of his employer, Syed decided to participate in the darshan session. But, by then, the ground had been filled up and Syed had no choice but to stand at the fag end of the ground and tried to have a glimpse of Swami from the distance of about 100 feet.
Later that night, Syed had a dream. Swami appeared to Him and said that He had seen him at the darshan earlier in the day and assured him that He would solve all his personal problems.
Sindhika, 10, a Balvikas student from Mulund, could not go for the darshans in Mumbai, but Swami Himself paid her a visit. In a dream, Swami said to her: "I am there in your house. I know you sing bhajans."
Surely, dearness to God is more precious than nearness.
It is only pure Love that binds us all together and us to Swami. Only that Divine Love, which itself is God, can give us true and lasting peace and happiness. I realised this literally after Swami had left Maharashtra for Puttaparthi.
On November 3, a day after Swami had left Mumbai, I went to Dharmakshetra to wrap up work relating to the trip. However, unlike the past one week, I had a hollow sensation in my heart, and I did not know why.
It dawned on me that it was because I was not in Swami's physical presence, which I had been for the last one week. I was not happy because I was not in union with God. Surely, true happiness can be experienced only in union with God, and this was one of the many lessons I had learnt from Swami's trip.
(The writer was involved in making arrangements for Swami's trip to Maharashtra)