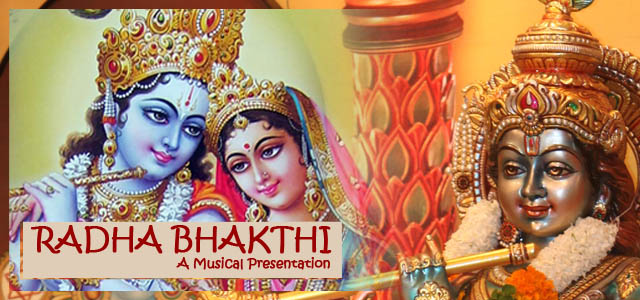 Posted at 21:56:32 IST on Mar 21, 2010
The unique cultural programme on the evening of March 20, in two words, was – thrilling and elevating. Thrilling because it gloriously and melodiously demonstrated how sweet and marvelous it is whenever the Divine decides to delight His devotees with His own music, poetry and literature; and elevating because it was centered on one of the most sublime and uplifting chapters of the sacred Srimad Bhagavatha – the sanctifying relationship between Radha and Krishna.
The programme began with a charming composition of Bhagawan Baba "Krishna Hare…" wherein Swami beautifully describes how Mother Yashoda used to sweetly plead with little Krishna to come near her so that she could adorn Him.
Once the whole ambience in the Sai Kulwant Hall was enveloped with this Krishna bhavam, the commentators now introduced the programme which was entitled Sahiti Brindavanam Lo Sai Krishnanuni Sumadhura Venu Ganam – The Celestial Melody of Sai Krishna's Flute in the Lovely Brindavan of Literature". It was to be a garland of 18 poems and songs, all of them composed by Bhagawan Baba, on the theme "Radha Bhakthi".
After this, devotees were thrilled to hear on the PA system the Golden Voice of Bhagawan singing Vaachama gocharundanee. And from then on the scene shifted to the scintillating childhood of Krishna. While one verse described how Mother Yashoda chided Krishna for stealing butter from the houses of gopikas, another one, again in the Silken Voice of Swami, brought alive how the gopikas complained to Mother Yashoda about the childish pranks of Krishna. After this began the sublime story of the devotion of the gopikas who prayed to Krishna "If you were a tree, O Krishna, I would be a creeper twining round you…". The soulful singing of this poem was followed by another splendid tune created by our Bhagawan describing how a gopika, Suguna, saw the image of Krishna in a lamp. Sugunaku Chanipinche nanta Nanduni inta gopaludanta deepana chapinche nanta… this is how that nectarous literary creation flowed.
After this catchy composition, the mood of the presentation switched from pleasant to pathos as the next verse Nallanivadu… described how the gopikas used to long for Krishna and ask every bush and bower, creeper and flower about the whereabouts of their beloved after Krishna left Brindavan. This verse was again in the Divine Voice which delighted the devotees.
After this came another engaging tune Mohana murali…rendered beautifully by the singers which portrayed how the gopikas yearned for the music and melody of Krishna.
The gopikas could never understand their Lord and expressing this they sang out Ninu Kanugona Galama…. The audience heard Sai Krishna sing this verse in His Golden Voice and burst out in applause.
The following verse continued the ambience of pathos and through a moving verse composed by Bhagawan presented how Mother Yashoda used to pine for her little Krishna. And then came on the scene Radha. If the sorrow of the gopikas and Mother Yashoda was like a block of ice, the agony of Radha was like a colossal iceberg. She used to plead with her Krishna "O Krishna! I cannot really exist without You….at least come in my dreams, please…" and this poignant prayer of Radha was depicted through another marvelous composition of Bhagawan Niluva Needa Leeni Brathuku… Radha's heart had transformed into a stone when Krishna left for Mathura; the sorrow in her soul was deep and indescribable. Enthakalamee Badal… the next verse served to give a glimpse of the intense pining of Radha for Krishna.
It is at this point that Krishna sends His dear friend, Uddhava, as His messenger to Brindavan. But the gopikas have no other mind to listen to this emissary, instead they spot a bee and using it a messenger, cry out, "O Bee, please tell Krishna that He should cast His Benevolent looks on me…" This touching scene was brought alive through the verse Thummeda Oka Sari… as revealed by our Bhagawan.
When Uddhava returns to Krishna after visiting Brindavan, he describes to Krishna how the gopikas and gopalas in the Gokul were not willing to touch even food or water because of His absence. The next verse Gopala Neevu… captured this heartrending scene beautifully.
Once Krishna learnt about the pathetic plight of the residents of Brindavan from Uddhava, He immediately decided to visit the playground of His childhood. And when this news reached Brindavan, the cows and meadows in Brindavan glistened with a new glow, and gopalas and gopikas danced in glee and joy. Kittaya Vachunata Nischayamuga… recreated this jubilant mood amazingly.
And after this the devotees had their hearts full as they heard in Swami's Voice the classic composition Pata Padu Maa Krishna… This was the last prayer of Radha wherein she pleaded with Krishna to sing for her once. And the Lord did accede to her request. He immediately took a twig of a bamboo, converted that into a flute and out came from His ethereal lips entrancing music. Radha was transported into a realm of pure spiritual ecstasy and fused in the form of her beloved. From that moment on, Krishna never touched the flute again.
Bhagawan says Radha was truly a dhara of aradhana – a continuous stream of sustained unalloyed devotion. And in fact every devotee who cultivates such a kind of pure, selfless and supremely passionate Love for the Divine is truly a Radha. Only when one cultivates such a love can one be blessed with perennial peace. The programme concluded with a song Prabhu Nee Nama… which amply conveyed this sublime thought. Thus came to a close a beautiful session which was a sacred blend of divine poetry and melody, music and literature.