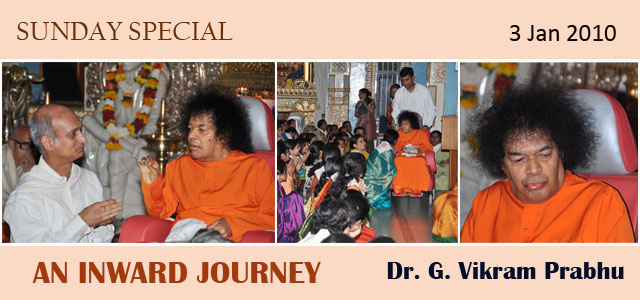 Posted at 13:00:00 Hrs. IST on 03 Jan 2010
As the second batch of the doctors from the Bangalore hospitals completed 'their' Parthi Yatra in the third week of December, there were fresh lessons, fresh insights, fresh feelings and fresh perceptions to treating patients. He spoke about the do's and donot's to be practised while rendering better service. Dr. Vikram Prabhu, Consultant Psychiatrist at SSSIHMS and SSSGH, Whitefield writes all about the rejuvenating experience for the folks.
Undoubtedly, God is omnipresent. However, there are some hallowed places which get sanctified as divinity chooses to manifest itself more prominently eg: Ayodhya, Mathura, Shirdi, Tirupathi, etc., People belonging to different faiths have such places, the world over. Puttaparthi is one such place and many people from different countries have come here during the past few decades.
Puttaparthi is more than a pilgrim centre. This is a place that doctors of several countries vie to come and serve at the two hospitals. To the suffering patients, this is a place they come to, seeking to be relieved off their maladies through world-class treatment, all for free. For those seeking an education right from the primary school level to a doctorate or Masters in different subjects, there is excellent free education (educare). It is a wellspring for spiritual aspirants and all those who want to see God in flesh and blood. Thus it can be truly said that all roads lead to Puttaparthi.

On the tenth of November 2009, the Medical Director of the Sri Sathya Sai Institute of Higher Medical Sciences (SSSIHMS), Whitefield, Dr. A.S.Hegde mentioned to me that the doctors of the hospital would soon go to Puttaparthi to have darshan of Bhagawan Baba. This was most thrilling to know as the only other time we had made a similar trip was in December 2001, the year the hospital had begun.
As a prelude, let me mention that I was one amongst the doctors for whom Bhagawan had materialized a ring during the trip of December 2001. I most gratefully wore it until January 2009 when one day while at home the stone came off and fell on the carpet. I had carefully kept the ring and the stone wondering what to do next.
Subsequently, Bhagawan instructed that doctors of both the Sri Sathya Sai General Hospital and Sri Sathya Sai Institute of Higher Medical Sciences, Whitefield come together along with their families on the 19th December for a two day visit. To be invited by the Lord Himself was a rare privilege. Sri Aurobindo once remarked "He who chooses the divine has been chosen by the divine". This was His munificence towards the doctors working at his hospitals.
When we reached Prashanti Nilayam, we realized what it meant to be invited by Bhagawan. Many in the entourage had made previous trips to Puttaparthi but then this time we were in for royal treatment.
We donned scarves which mentioned that we were staff of the hospitals of the medical trust. We were given free accommodation and food. The menu was elaborate for each meal. The food simply delicious and the servings were multiple and generous. Mata Sai Annapurneshwari had some delicacies made for us. Mysore pak made out of pure ghee and crisp Jalebis. I for one, overate during those two days.
Though I had made several visits to Puttaparthi, never had I visited the Planetarium. I had attended one show at a planetarium elsewhere many years ago, but this experience was truly celestial. India had produced great astronomers such as Aryabhatta, Bhaskaracharya and others. We have our own nomenclature for the Zodiac signs eg: Mesha, Vrishaba etc., and also names for the Asterisms eg: Ashwini, Bharani, Krithika etc., what was remarkable about the show was the fact that not only were modern (western) names mentioned for the bodies but also the Indian ones. It has thus a synthesis. One could only marvel at the expanse of Bhagawan's creation, which was highlighted by the show.
We were given a conducted tour of the Sri Sathya Sai Institute of Higher Medical Sciences, Prashanthigram and the welcome and introduction was by none other than its Medical Director, Dr. A.N.Safaya. Standing in the central dome area (Prayer hall) of the hospital and gazing around was an exhilarating experience.
On the nineteenth evening, we had Bhagawan's darshan at the Sai Kulwant Hall. Beholding His physical form is the most joyous experience. But I must confess that, that day Bhagawan appeared frail to me. Now, I had carried the ring and the stone with me and if afforded a chance, wanted to ask Bhagawan what to do next. However, I resolved not to do so and only have a prayerful attitude during the darshans.
After the dinner on the nineteenth, we had the privilege of listening to a talk cum PowerPoint presentation by Prof. G.Venkataraman, an eminent Physicist and former Vice-chancellor of the Sri Sathya Sai University. It was most inspiring. He drove home the point that Bhagawan's will is a Vajra Sankalpa, what He wills is bound to happen whatever be the odds and circumstances.
On the twentieth morning, we were all afforded a chance to sit inside the prayer hall for the omkar chanting and suprabhatam. We then participated in the nagar-sankirtan. The Brahma Muhurtha period was well utilized.
A visit to the Chaitaneya Jyothi museum was arranged for us. Children and adults, both alike found the experience most enjoyable and enriching.
On the twentieth evening came the piece de resistance. Word was sent by Bhagawan that we were to be seated in the prayer hall; Bhagawan came and spent over an hour with us.
Bhagawan gave us ample darshan, sparshan, and sambhashan. As I had resolved not to bring up the matter concerning the ring it stayed inside the pocket of my trousers. However, Bhagawan beckoned me towards Him and the first thing He asked was "Where is the ring?" I had no option but to take it out from my pocket. He held it in His hand and returned it to me. But then I was in for a delight. He simply blew at His fingers and materialized a new ring and slid it into my finger saying that He could be seen in it. I then realized the futility of my myopic vision. I perceived Him to be frail when in fact He was none other than the Almighty. He wanted me to "see" Him everywhere. His majesty, power, glory, omnipotence and omnipresence were more to be focused upon and grasped. He knew what was there in my mind (thoughts), my heart (feelings) and in my pockets too! He is the Sarva-antarayamin (the indweller of all beings). I needed to recognize these deeper truths.
Bhagawan displayed His boundless compassion and simplicity when He interacted with the tiny tots who were probably giving trying moments to their mothers in the prayer hall. He materialized a gold chain for an infant. With all, He enquired, answered, comforted and reassured.
Bhagawan then gave a few aphorisms.
"You should not only treat patients well but also identify the reason for their illness. You should also investigate as to how, where and why they got the ailment?"
"Speak to them (patients) with love and compassion. Eyes should radiate love. Never get angry with them. Speak softly and sweetly to all patients. A doctor should develop such noble qualities but now-a-days they crave only for money".
"There should not be minor bickering amongst you"
"There is only one God. Call him Allah, Jesus, Rama , Krishna or Ishwar"
"Love for God. Morality for society and fear of sin are necessary"
"Pray for the well being of all patients"
"When you give medicines (treatment) to patients render it with love"
Bhagawan finally asked us "Are you all happy today?" He then added "Very happy"!
I must mention at this juncture that Bhagawan's interaction with all of us was mostly in Kannada. Finally He most graciously acceded to our request for a photo session with Him. What a blissful experience it was! What a joy it is to visit Puttaparthi. How sweet is the Lord, Parthivasa. How all knowing is Lord Sainath. Bhagawan Sri Sathya Sai Baba is the one who cuts asunder the veil of Maya. He shows us the meaning of "Neti, Neti" (Not this not this) and sets us on the inward journey and then guides on to the final destination that is He Himself. Let us tune ourselves to Him.
Also Read: Divine Message to Doctors
Also Read: The Inner Circle