These are stories 'past' one year, of greater team effort and understanding, dedication and devotion. …And in between comes rare glimpses of His touch that spells lessons for life and beyond. Read on from Rohini Hak's team experiences during Christmas 2008.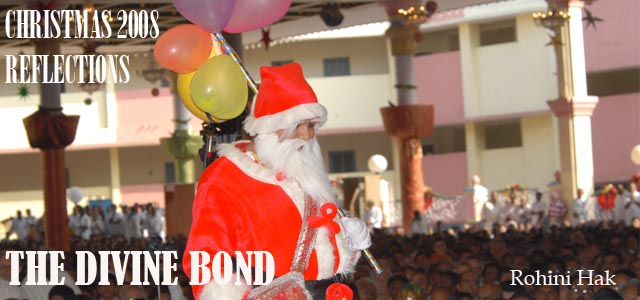 Posted at 11:00:00 Hrs. IST on 13 Dec 2009
I was blessed to be a part of the Christmas decoration team 2008 from Region 8. This is a life altering experience, the bliss, connection with Swami, sharing, caring between people from different parts of the world, and most of all the learning through personal events is beyond something one can pen in mere words. But here is my humble attempt to do the same.
My incredible journey started on December 7, when I arrived into the blessed Shed 32 for the first time and picked up the tarps to lay them down. It was empty with only a few people there, in a few days the same shed would be filled with multiple hearts and hands put to divine work.
We had already started planning the work with Tom who had previous experience with decorations in his Parthi Resume. Soon our leaders and co-coordinators arrived and work got delegated as needed. I was placed between the shed and the Easwarama Trust. We had meetings in the morning after the Ganesha Prayers about the day's work and targets and then at the end of the day after a couple of rejuvenating bhajans.
We did not go to darshans until we had accomplished most of the tasks after the first week of being there. But we had darshans every day through Swami's instruments that we were working with. The feeling of His presence was so much stronger in the shed and around His work being done at different locations, that we never felt we were missing out any instance. It really goes to show us that we are close to Him everywhere, as long as He is close in our thoughts and deeds.
At the Easwaramma Trust we worked on every fabric that was put up in the decoration design, sewing, cutting, pillar covers, patching bows, pigeon covers, beautiful swabs to even huge banners. These 18 girls at the trust with ages ranging from as young as 16 years old to about 24, showed the maturity, diligence, patience and love for Swami that has touched and inspired my heart and soul forever. We worked and changed things around numer­ous times but were always met with smiling faces willing to do whatever we asked. All they asked for was the love we showered on them. Their leader, Kiran, was amazing. She convinced them to work non-stop with no days off almost for three weeks. We would bring work back and forth from the shed with instructions, and even though there was a language barrier in the beginning, it was as though we communicated with our hearts and our love for Swami. We would sit there talking in different languages and have the greatest of conversations!!! This is when Swami's teaching "There is One Language the Language of the Heart" was in action!!!
In the shed, it was amazing how all problems came and got resolved as quickly as they arose, showing us how Swami was always with us. The love we shared even with the time constraints and work load, the understanding that everyone had with each other's idiosyncrasies, the care everyone imparted with bringing food for each other or a coffee just when needed, showed our Divine Bond of Sai Love.
I want to share some personal experiences that come to mind amongst many of them that I am sure we all had. One day we were cutting postcards for some stars that had to be put on a design template. While the volunteers cut them in the right size in ovals, one of the Christmas Drama children, Suhas, came up and questioned me as to why we ruthlessly cutting away Swami's pictures. I explained that we needed to use them in a specific size. He then said something that made me feel like Swami was talking right to us, "why are you cutting away my favorite part, Swami's feet?" I was stunned for some time and told him that I would make all the girls cut out the feet in a good shape to be given out to all that were gathered for the evening meeting. He jumped up and down and was happy to hear that. As he distributed the feet amongst all that were present, they started the Ganesha Bhajan which was, "We bow Down at The FEET of Ganesha." Just went to show me and others I shared this with that there are no coincidences with Swami, but only miracles and lessons from them that are meant to be.
Another time, I was shopping for bhajan CDs and the shopkeeper kept trying to push this CD of bhajans sung by Swami instead of the ones I was looking at. Getting frustrated with his being pushy I said out aloud to him, "I don't want the same old songs sung by Swami, I already have all the ones sung by Swami on older CDs, and, moreover, it's been a while since Swami has sung in Kulwant Hall. Swami doesn't sing anymore." It was random talk between me and a shopkeeper, and I forgot about it when running here and there with all the errands and work for the decorations. That afternoon, as we sat for darshans, it was the last thing on my mind. We had great seating right in front close to the mandir, and we were all excited. Swami came out dressed in white. Swami gave a discourse, and we were so happy at that, and suddenly He started singing. Just then, as though struck by a lightning bolt, my words to the shopkeeper started playing in my mind. I love bhajans and always sing with the mandir bhajans, and in previous Parthi visits when Swami sang, I would be the loudest follower, as I enjoy them tremendously. But on this day, my throat felt like it was choked. And just then, to add to the turmoil going on in my head, Swami finished one bhajan and started a second one. Just before starting the song, Swami turned His head a sharp left and looked right at me. At this point I was in tears, choking, and dreading my words said in the morning. It was as though My lord was showing me that it is not Him who can't sing bhajans, but at His will it's me who can't sing them!!! But our Mother Sai, is loving and in her actions always have the undercurrent of love.
As Swami's second bhajan was coming to a close, my tears were now tears of Joy, as I had realised how my Lord is always with us all, listening to each word we utter, each action we do, and every breath we take, in any part of the world. He gives us these experiences so we realize His Omnipresence, His Omnipresent Love, the only thing asked in return is Faith and Love for Him.
My most important lesson from this trip is that, "When God solves our problems we trust in HIS ability, but when He does not solve our problems we need to remember that he trusts in OUR ability." I think I lived this through numerous experiences while working hands-on at the Christmas Decoration 2008 trip.
I wish that all of you reading this could have been on this trip with us, and I hope that my humble writing will give you a glimpse of the Joy that is ever-flowing and can be felt so strongly. It is inexplicable in words. From this trip, I am stronger emotionally, mentally, my faith and I now travel this world with the Lord's Love as my beacon, hoping and praying to do his work and be his instrument always.
Love to all my Brothers and Sisters, Do forgive my emotional ramblings.
Life, wherein change is the only thing that is permanent,
Oh Swami, your divine grace on me blessed me to be your instrument
I knew your light my lord even before O took this flight you,
I knew you loved us so, to make us the chosen few,
Now my life is touched by your presence so strong with me everywhere I go,
This feeling, such bliss, to have you so close was the aim you had from this task I know,
Decorations we put together was an illusion, the real happening was in our hearts to end our delusion,
We come through this reborn, so strong, we know we can do whatever is asked in our service paths,
Can face all turmoil, tempest, pain or even devil's wrath,
Your love with us we take,
For that all we can forsake,
As I thank you for the grace shared,
I smile in the knowledge that for each one of us how much you cared.