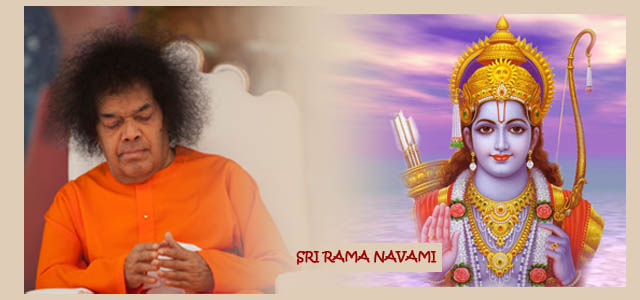 Posted at 12:30:00 IST on Mar 25, 2010
Rama Rajya is never a dream when The Lord Himself is amidst us…When He rules, where He rules, that becomes verily a Rama Rajya! Perhaps this message was the indirect message one could decipher from the song that rang in the "House of the Lord" on the auspicious Sri Rama Navami evening. In an unprecedented move, Bhagawan blessed the four music accompanists of Sri Rituraj Maharaj, the master who conducted the Bhagavatha Saptaaham during the past seven days, to offer a bouquet of three songs at His Lotus Feet, marking an atypical Sri Rama Navami Celebrations in Prasanthi Nilayam, on the 24th March.
Jo Bhi Chahe Maanghlo…Merey Sai Sarkar Se…Aaaj Thak Koi Nahi Kaali Gaya Darbar Se… meaning, seek from Sai whatever you want, till today none has returned empty handed…was the first song suffused with meaning galore bringing in the greater glory of the Lord of present times. "Sai Sai Kehne Ki Aadat Si Ho Gayi Hey… Baba Ke charanoan Mein Rahne Ki Aadat Si Ho Gayi Hey…" meaning we are habituated in repeating Sai's name and living at His Feet…" was the melody that captivated many a heart and soul on the beautiful evening when Lord was seated on stage. The group of four accompanists had two more songs to follow before the students took over to sing another two songs. The second song was, "Durbar Mein Sai Baba Ke Dukh… Dardh Mittane Jaathey Hey…" to wind up with the familiar tune on Shirdi Sai, "Sai Naatha Tere Hazaron Haath…". Students started with the familiar soul stirring Sri Rama Stuti, "Sri Rama Chandra Kripalu Bhajaman…" followed by another bhajan on Lord Sri Ram.
Earlier, there was a long stint of Rama bhajans that continued till 11:40 in the morning, till Arathi was offered. In the evening, Bhagawan, upon coming out at 4:30, granted a 45 minutes interview to Sri Rituraj Maharaj and his musical troupe wherein He graciously blessed the troupe to sing in His Divine Presence. It should be highlighted that the music accompaniment during the Saptaaham brought in a unique charm helping to enliven the Bhagavatha rendition by filling the right mix at the right occasion invoking the right feeling, transporting the audience to immerse in the rendition.