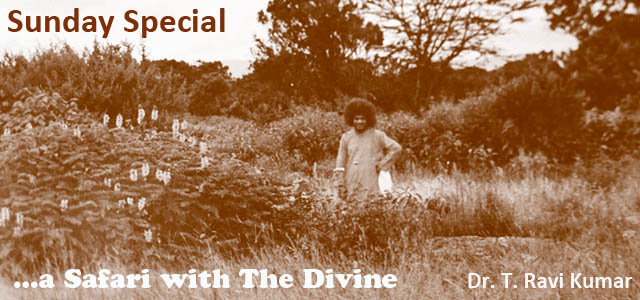 Posted at 18:30:00 Hrs. IST on 10 Jan 2010
A day with Swami anywhere in the universe would be wonderful and how would you take the chance for a Safari with the Divine unto the lap of Nature. Dr. T. Ravi Kumar, Reader, Dept. of Chemistry, Brindavan Campus had this rare blessing to be a part of the Divine Caravan unto Rajeev Gandhi National Park in the Nagarhole Wild Life Sanctuary, in the year 2000. Read on for the first person account from Dr. Ravi Kumar who lucidly explains the trip in his inimital style.The writer has done his pre-university, under graduation and post graduation in Chemistry followed by Doctoral Degree from the erstwhile Sri Sathya Sai Institute of Higehr Learning, Prasanthi Nilayam.
18 April 2000. It was 2:30 pm. I was mildly dozing. "On condition of total and absolute secrecy I have been asked, by Swami, to tell you that you have to be ready by 5 am in mandir tomorrow. We are going on a trip to Nagarhole". I got jerked awake by the end of the message, trying to comprehend the magnitude of the wonderful news. It was a brother lecturer who brought these tidings of joy. Needless to say, I was thrilled. A day with Swami anywhere in the universe would be wonderful and that too to go to the lap of nature with Swami. I was in ecstasy and the rest of the day I was hardly able to keep myself from smiling at all those I met!
19 April 2000. Sleep refuses to visit me the whole of the night. I am worried that I might get up late and miss the chance. The alarm's behaviour, of late, has been alarming. It seems to join me in dozing. Finally it is 3 a.m. I get up from my bed and decide to get ready. Of all days, today, the geyser has decided to take a day off! Brrrr… a refreshing cold water shower. At 4:30 am, I decide it is time to wend my way to Trayee.
Imagine my shock when a Sevadal member comes running towards the hostel. "Swami has come down already. He is asking for the boys". I run to the hostel and inform the students and rush back to mandir to see Swami get into the car and start off. Swami is cross. Seeing us arriving, He says, "You are all lazies…I will never take you anywhere next time". On the eastern side of the Mandir are lined up two Tata Sumos and two Tata safaris. We get into the cars quickly and the caravan moves towards the gate. It was to be a total surprise but…how did this long line of devotees stretching till the railway gate know of the plans?? 'the Lord is the resident in the devotee's heart and as such there can be no secrets', I muse.
We move through the deserted streets of the Bangalore city and finally touch Mysore road. Even as we pass Malleswaram, suddenly on the kerb we notice a Sevadal member, a regular visitor to Brindavan standing with folded hands for a glimpse of Swami. Swami blesses him. He was about to start to Brindavan for duty when our Sweet Lord decides to bless him with darshan in front of his house itself!
We pass through Kengeri, Bidadi, Ramnagara, Chennapatna and the lush Mandya before reaching Srirangapatna…we even pass a road leading to Rangannathittu – a famous bird sanctuary. At 8 a.m. Swami's car enters a forest guest house near Mandya. We all quickly get down. Much to our delight, Swami is all smiles. We follow Him into a small cottage. Its one big room is curtained. There is a dining table with a few chairs.
Swami asks us to have breakfast. Swami eats even lesser than what we are accustomed to see Him eating. There are a number of forest officials, inspectors and others. While we are busy tucking away dosas, Swami walks up to them and enquires about their welfare ever so kindly. Obviously the ananda on their faces is the breakfast He relishes. Their response to Him is so spontaneous. Swami comes near us, smiling sweetly, He tells us: "I pretended to be cross with all of you in the morning because I wanted to drive home the lesson that we have come with a specific purpose and we must reach our destination in time".
After our breakfast, we get into the cars and proceed towards Nagarhole and reach there in time. There are a cluster of three buildings (on one of them is painted the name – Gangothri Lodge). Even in this remote village Swami is surrounded by nearly 50 forest officials. We are ushered into an inner room set apart for Swami and His entourage. There are two cots with neat bed spreads. In one corner there is a table with a table lamp and a chair. As cool drinks are being served to us, Swami says, "Drink quickly; then we will go round the forest. If we are late, the animals will retreat deep into the forest".
All of us get into the buses belong to the forest department. I am lucky to be in Swami's bus. Swami sits in the front seat and strikes a conversation with one of the senior forest officials. How many lions are there? tigers? do you have panthers also? elephants? The official who is up to his finger tips in statistics rattles off figures from the latest census. He is happy, one can see, to be able to answer Swami so thoroughly. Then Swami starts telling him about the wild animals, their habits and habitats. The 'ask-me-I-shall-tell-more' look on that man's face vanishes as he realizes that he is conversing with someone who seems to know the forest quite well (had He not spent 14 long years in Treta Yuga and occasional stints in Dwapara with the Pandavas in the forest?).
The bus slows down. Deer in hundreds are seen. They are not scared by the presence of the bus or us. They just gaze at us wide-eyed. A little ahead of us we see a couple of wild elephants which seem to turn coy and disapper into the undergrowth. A bison family – mother, father and children then catch our attention. Deer no longer enjoy our unadulterated adulation. They are too ubiquitous! There are some lovely fawns frisking around their mother deer in gay abandon. At one spot near a lake we see big turtles sunbathing on stumps of cut trees. As we proceed a forest official excitedly points to a 'nemilu' (peacock). We see the glorious and rare sight of a peacock in flight about 25 feet above the ground. The forest officials seemed keen to show (off?) every bit of the forest and its denizens. My neighbour, an official, animatedly points in one direction. I am able to quickly get a glimpse of what turns out to be a 'Kadu Kodi' (wild hen)! "Little does he realizes we are from Kadugodi" whispers a brother. We also spot some langur on the way back - theirs and ours!
We return to the lodge. As we relax inside the private room, Swami talks to us about the "maithree" – friendliness among the denizens of the forest and how man has strayed from the path. He suddenly smiles beautifully and raises both His palms in blessing. Turning our heads, we notice two policemen on duty trying to 'steal' a glimpse of Swami. Swami gets up, goes to the window and converses with them. "Where are you from? Are you from nearby place? Nimma hesarenu (what is your name)…" and so on so affectionately. I contrast this in my mind with what would have been my reaction if I had spotted the policemen on duty do the same thing and Swami's reaction touches my heart.
A small table of 2 ½ (x) 2 ½ ft was placed for Swami as His dining table. Sitting on a straight backed chair, Swami looks so regal in His simplicity! We sit around Swami and eat off our plates with spoons. Swami asked the cook his name "Revi" he said, in his Kerala accent. Swami smiles and pointing to me says, "he is also 'Revi'. The cook serves Swami very affectionately and as of right, He even prays, "Swami, please eat this, that…please eat a little more…" Swami too responds and tastes whatever he offers…"sulabha prasannaya namaha…" is not merely an epithet. We can see it in every moment of His life. After He finishes His lunch, ever so innocently, Swami asks "where should I wash My hand and brushing aside the silver bowl of water offered, chooses to use a small wash basin in the corner. A person brings a silver tumbler of water in a tray, Swami asks him sweetly", "Is this for Me?" before dipping a finger and taking a drop just to please that person.
After lunch Swami asks us to take some rest. At 1:30 p.m. we freshen ourselves and assemble in the front room of the main guest house. Swami comes and sits down. A foreigner who is a guide also joins us. Swami asks him "What is your age?"
"83 Baba". Swami asks him "How old am I". To his answer "60" ? Swami replies" No, 75, I will be 75 this November. How are these boys? "Good Baba". "They are all professors…Swami introduces each one. "Would you like a gift from Me?" "I would be delighted Baba".
Swami waves His hand and produces a green stone ring. "See, green is for peace…size is perfect". Swami looks at one of the students and asks "Are you not well? You look tired". He mentions that he has fever and immediately Swami creates Vibhuti and gives him. Swami takes His own glass of water, asks him to pour the Vibhuti into his mouth and pours the water. Swami then calls our host and creates a ring for him also. Noticing that a number of people have gathered outside for His darshan, Swami gets up and goes to the portico. I quietly smuggle myself outside. Swami is surrounded by a large number of people who are obviously thrilled at this unexpected gift of Darshan in this remote forest. All of them are obviously new as they all simultaneously talk to Swami, each voicing his/her problem. Swami listens to them patiently and responds to them on a one-to-one basis. To a lady who vociferously laments that she has a lot of problems, Swami addresses this question: Yes, I know, but is it right for you to leave your sick child locked all alone at home and come here. She is awestruck by Swami's omniscience and His kind manner of telling and breaks into sobs. To another who is trying to convey something, Swami says, "Yes, I know…I know, your husband is here and from the crowd singles out a person and asks him to come forward, creates a ring for him and looking at the lady enquires "are you happy (now)?" Both of them dissolve into bhakthi tears. Another prays for blessings for a patashala (school) he is starting. Swami spends some time enquiring about details, thus blessing the venture with success even at conception stage. Meanwhile, one person comes forward and gives Swami bananas, arecanut and some more things. Swami readily accepts the fruits with the words "bangaru…bangaru". Swami pats the person who is moved to tears.
All in all it is a lovely experience- God interacting with human beings. The joy that His words bring to people has to be seen to be believed. I congratulate myself on having secured such a wonderful chance to witness this heartwarming scene. I realize that it is this task of conferring Joy on these people that has brought Swami to the forest and I mentally thank them for the trip.
We then get into the bus and go into the forest. Swami asks for the experienced guide and makes him sit next to Him. He asks him where the regular haunts of the elephants are, but comments that they would not be found there today and as predicted by Him there is not even a single elephant when we arrive there. Swami then gives directions to the driver. We find a herd of elephants at the spot indicated by Him. (after all He should know…He answers the call of every Gajendra in distress!)
It is time to start our journey back to Brindavan. We board the cars. The forest officers are jubilant and do padanamaskar. They pray to Swami to come again soon. Swami pats them lovingly and blesses them.
We return to Brindavan. We get down from our cars and run to Swami's car as He gets down. He is as fresh as a lilly…